Smart home pellet boiler
Features of home pellet boilers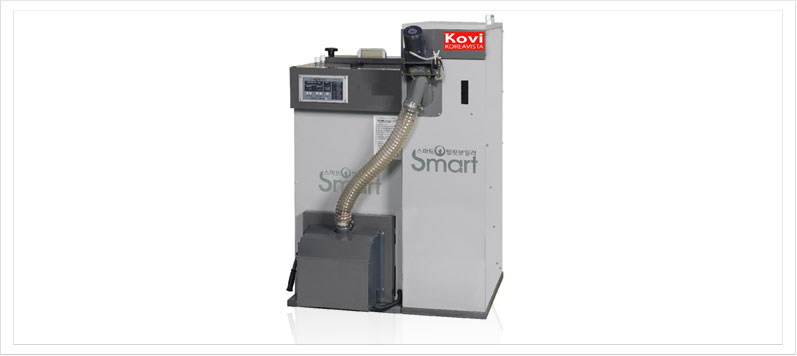 Wooden pellet?
Wooden pellet is the fuel processed in the form Of small grains by compressing sawdust It is an eco- friendly fuel that does not generate additional C02, which causes global warming, and SOX, which is the main reason Of acid rain.
Mycom type convenient and proven controller

Home pellet boiler is easy to use like common oil boilers as domestic and controller instead of low-cost Chinese controller is equipped. The functions of backfire protection, low level detection and over-heating protection make the boiler more safe.

Fast ignition and high durability of electrical heater

Special SIN heater is utilized to get the boiler ignited within 1-2 minutes and to consume low power. High durability ensures that failures such as circuit breaker short are minimized.

Eco-friendly high efficiency boiler

The boiler is equipped with the vertical 3-pass type flue that ensures higher thermal efficiency than any other domestic boilers. It does not smoke after ignition and operates very quietly.

Automatic cleaning of clinker and ash

The flue, and the ash and clinker in the burner are automatically cleaned by the actuator that has automatic sliding function, which allows easy boiler operation.

Fully automatic safety control system

The functions of dual backfire prevention, power interruption compensation, overheating protection. freeze protection, low water level detection, pellet fuel presence notification, heat storage tank control, going out control, repeating timer and explosion prevention ensure the safe operation of the boiler like a gas boiler.

Easy installation

The boiler is easy to install since the boiler shell, burner and hopper are separated, and the boiler is designed such that A/S activities can be carried Out from the front of the boiler.

Automatic high efficiency burner

Heating value is 25,000 Kcal/h or more so that the boiler can accommodate the heating area as much as 132m2 (40 pyung).